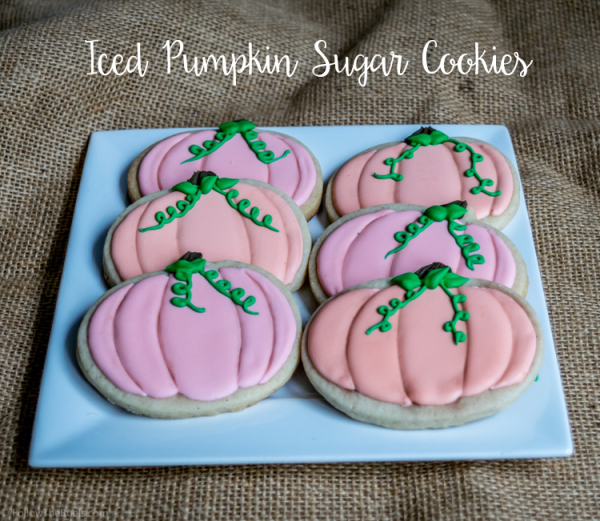 I made these cute pastel orange and pink pumpkin sugar cookies for a friends baby shower last month. And since Thanksgiving is this week, thus ending "pumpkin" season, I thought it was about time I posted how I decorated these cute cookies!
I should also mention that these aren't just any decorated sugar cookie. When I made the cookie dough, I tossed in a couple teaspoons of pumpkin pie spice. I didn't tell my friend about the added spice, but she was pleasantly surprised! She loved the flavor and it tied in with the decoration beautifully.
Even if you don't want to decorate these cookies like pumpkins, I highly recommend adding pumpkin pie spice to cookie dough. Obviously there is no "pumpkin" flavor, but the spice combination is just so warm and cozy! It just taste like Fall and everything that is wonderful about Fall.

I started the decoration process by marking off the sections of the pumpkin with an edible ink marker. Then I piped 15-second consistency royal icing to form every other section, as you can see in the top section.
After the first sections crusted, which took about 30-45 minutes, I piped the sections in between. By allowing the sections to dry first, it ensure that the icing doesn't run together and keeps each section slight separated.
To give the pumpkin some additional dimension, I brushed some brown edible petal dust in the creases once the cookie was completely dry (I allowed it to dry overnight). This not only helped with dimension, but also gave the pumpkin a little bit more texture, which made it look a bit more realistic.
Then I piped on a stem with thicker, piping consistency brown royal icing using a star piping tip. I wanted the icing thick enough so that the groves from the star tip stayed in tact.
With green piping consistency royal icing, I piped on some vines and leaves. I used a leaf piping tip for the leaves, which are much easier than they look. With the points of the tip on the top and bottom, apply enough pressure on the piping bag to pipe a thick ribbon of icing, then release the pressure and pull the tip away quickly to create the point of the leaf. I hope that makes sense! Every time I make leaves, I do a couple practice tries before I pipe on the cookie.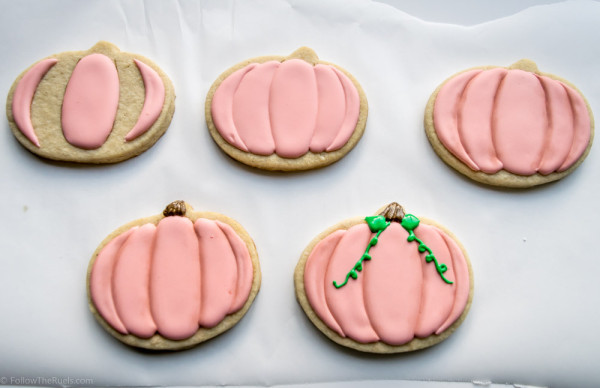 These are great cookies to make if you are still getting comfortable decorating cookies with royal icing (like me!). It doesn't require a lot of intricate piping. You can just pipe out some icing in the general shape and use a toothpick or scribe tool to help you form the exact shape you need.
I will definitely be making pumpkin cookies again next year for Halloween, Thanksgiving, or for any Fall get-together! People seemed to really love them, not just because they look like pumpkins but also because of the pumpkin pie spice flavor.
I used my Basic Sugar Cookie recipe and added 2 teaspoon of pumpkin pie spice in with the flour mixture.
See my other cookie decoration posts here and here.
Happy baking!
[yumprint-recipe id='83']