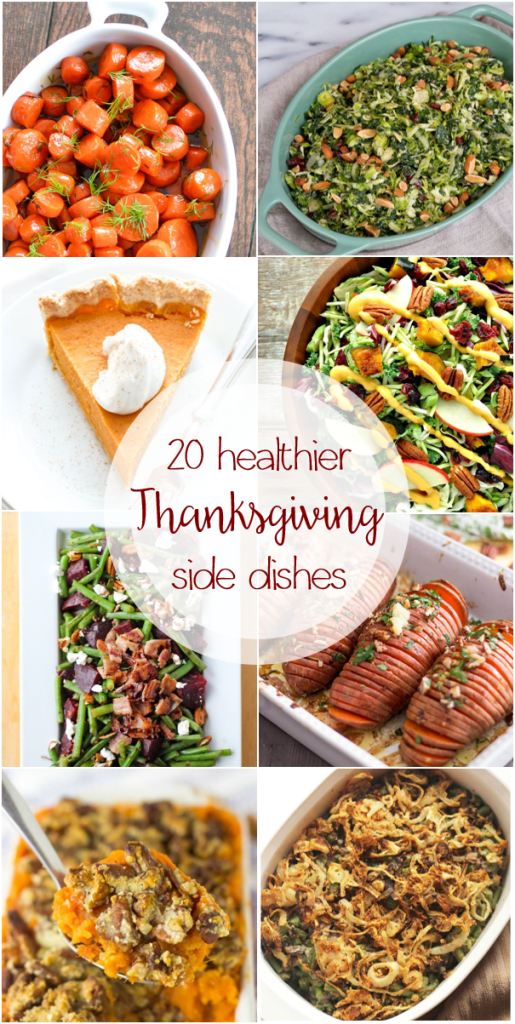 Thanksgiving is not a day to be healthy and count calories. Like my mom always says, "calories don't count on holidays". Which may explain my battle with the scale this time of the year.
But even though we should indulge a little on Thanksgiving, we don't have to OVER indulge and completely fall off the wagon. There are lots of delicious yet healthier Thanksgiving side dishes that will help balance out all the junk food.
I've compiled a few of my favorite healthier options below. I wouldn't classify all of them a health food, but they are at least a lighter, slightly healthier version that some of the more traditional (read: full of butter) Thanksgiving side dishes. I hope they can inspire some of you to add a healthier option to your Thanksgiving table.
Apple Cranberry Walnut Salad via Le Creme de la Crumb
Bourbon Maple Glazed Carrots via Cooking and Beer
Baked Asparagus Fries via Damn Delicious
Skinny Broccoli Salad via Skinny Mom
Cinnamon Roasted Butternut Squash via Chew Out Loud
Skinny Sweet Potato Casserole via Jessica in the Kitchen
Roasted Mushrooms with Garlic and Thyme via Cakes Cottage
Coconut Sweet Potato Pie via Back to Her Roots
Green Beans and Beets with Balsamic Reduction via The Roasted Root
Low Calorie Thanksgiving Stuffing via Laa Loosh
Fall Harvest Salad via My Recipe Magic
Pumpkin Pie Dip via Follow the Ruels
Hasselback Sweet Potatoes via The Healthy Foodie
Shredded Kale and Brussels Sprout Salad via Eating Bird Food
Green Beans with Cranberries via Natasha's Kitchen
Sweet Potato and Cauliflower Mash via The Fit Fork
Spinach Gratin via Skinny Taste
Garlic Roasted Carrots via Damn Delicious
Vegan, Gluten Free Green Bean Casserole via Hummusapien
I have compiled these as well as some other options to my Thanksgiving Pinterest board. Follow along to see everything I pin! Plus, I will be pinning some great recipes to make AFTER Thanksgiving soon, too.