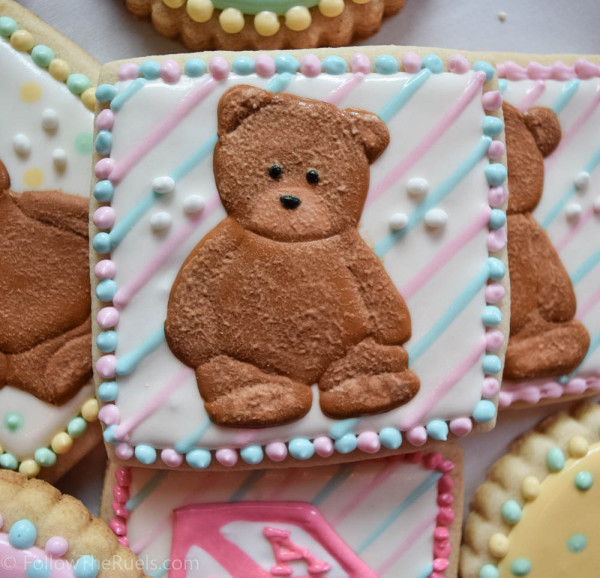 I'm at that stage in life where it seems like all my friends, co-workers, and Facebook acquaintances are having babies. Which also means I am at that stage in life where those aforementioned people are asking ME when I plan on having one of my own. So to distract them from their question (hey, look over here!), I just make them really cute cookies for their baby shower.
These teddy bear cookies were made for the most friend to have a baby shower. My friend doesn't know the gender of the baby and since she also went to Baylor, like me, I thought green and yellow cookies with teddy bears would be perfect! But I also through in some pink and blue cookies to break up the Baylor theme.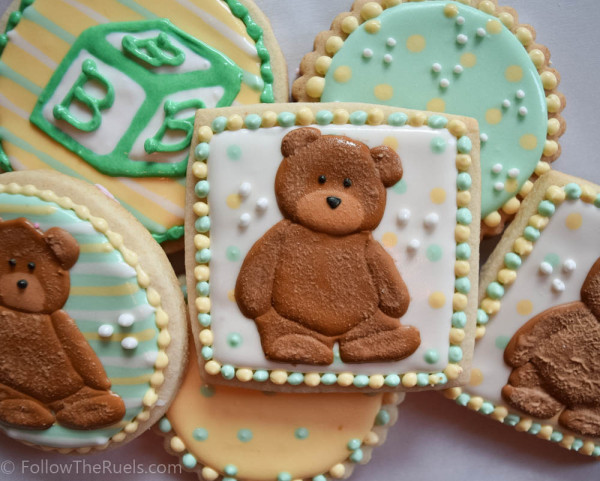 Before I get too much further, I want to apologize. I only filmed the bear portion of the cookie design, since it was the most complicated (and I didn't think about filming until I had done the first layer of icing). But for all the cookies, either did stripes or dots, which are both really easy.
First I iced the whole cookie with flood/15 second consistency icing in a solid color, like white. Then while the cookie was still wet, I either piped little dots or stripes (see my post here for some tips on piping). I let them dry completely overnight before putting the bear on top.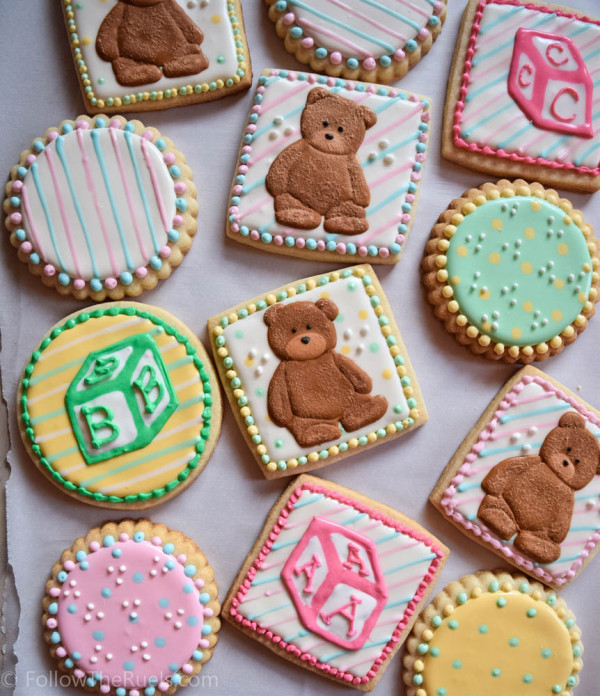 For the bears, I actually found a picture of a teddy bear I liked on Google and traced it onto parchment paper (I had the picture pulled up on my clean iPad and placed the parchment on top of my iPad to trace). I cut out the design and then traced the template onto the cookie with a food coloring pen. I then filled in the different parts of the bear in brown flood consistency icing.
The other part of the bear design that I didn't capture in the video was the "fur". Once the bears were done, they just looked too flat to me. So I stippled thickened brown icing onto the bears with a little craft brush. Once it dried, it looked like the bear had a fuzzy layer of fur.
I finished the cookies by piping dots in stiff consistency icing around the outside to create a border and let them dry over night. You could definitely leave the borders off, but I find them helpful to hide my mistakes. The circular cookies are especially hard to form an even and perfect circle, so the dots help cover that up.
I used my Basic Sugar Cookie recipe with almond extract and this royal icing recipe.
I have a while until my next baby shower…so what cookies should I make next?