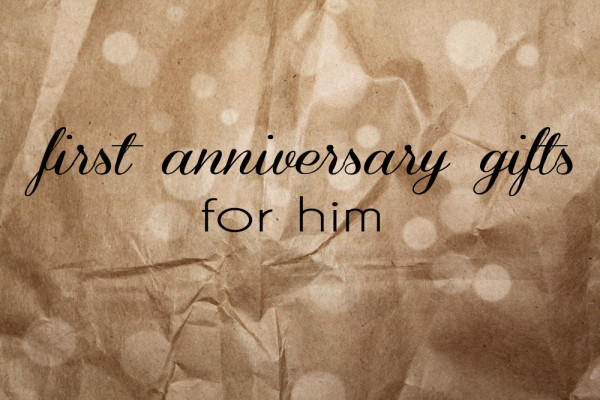 My husband and I are coming up on our first anniversary gifts and I have struggled coming up with good ideas for him! The first anniversary is the "paper" anniversary, according to tradition. Now paper isn't the most romantic material, and in this day in age, isn't the most coveted. But that doesn't mean there aren't any good ideas out there! I guarantee your husband will love at least one of the gift ideas below!
1. Tickets. Does your husband love sports, traveling, or maybe the theater? Get him tickets to see his favorite sports team, fly to a city he's never been, or go see one of his favorite shows. Both my husband and got each other tickets for our anniversary: I college football tickets and he So You Think You Can Dance tour tickets. What can I say, we're romantics. 🙂
2. Artwork. If your husband is on the artistic side, or at least has an appreciation for art, why not get him a water color or sketch by his favorite artist, of something he's interested in, or has meaning to the two of you that he can hang in his office or in your living room. I know my husband love Banksy prints and Minted has a lot of wonderful prints from up and coming artists.
3. Books. My husband isn't an avid reader, but if he were I would have loved to track down a limited edition or first edition version of his favorite book. Or maybe a signed copy by his favorite author. This could definitely also include comic books. If your husband loves or collect comic books, he would be so impressed if you tracked down a rare comic book.
4. Stationary. I find that good quality, personalized stationary can make an ordinary note that much more special or professional. This is a great gift for any guy who has a job were they send a lot of notes or cards out to people, or just like writing. Or if your man works for himself or has a small business you could surprise him with professionally designed business cards and letter head.
5. Boudoir Photos. This may seem like the trend for new brides to get their new husbands, but why not save these for your first anniversary. Of course, not all of us are super comfortable stripping down in front of the camera, but I bet any husband would love a photo of his beautiful wife. Especially if she's in lingerie.
6. Journal. If your man like to write down thoughts, poems, recipes, or whatever, why not get him a really nice journal. Every time he writes in it he will think of you and the meaning behind it. And once its full, he can keep it out and display it. Or save it to look back on over the years.
7. A Love Letter. This won't require any money, but it will require the most work. I am certainly not a super romantic person, so writing a love letter doesn't come easy. But you can fill it with some of your best memories over the first year of marriage. Or telling him all the ways you love him. He will certainly appreciate the thought and love behind it.
What did you get your husband for your first anniversary?